Taapsee
Pannu
has been joined by her younger sister Shagun in Nainital, where she's shooting for her first home-production 'Blurr', co-produced by Pranjal Khandhdiya and directed by Ajay Bahl. The Pannu sisters took some time off on Friday afternoon to talk to ETimes. They are our guests on the #BigInterview this week. It's a video that you cannot miss (SEE BELOW). It's full of questions that were not asked to them and stories they hadn't told before.
Here are the excerpts from the conversation:
Shagun, Taapsee has said that you are more mature than her…

Shagun: Yes, that's absolutely right, even though I am 4 years younger than her. But now she has started giving me competition. She is changing. She is learning to be more patient. Now, I have to sharpen my skills further (laughs).


Shagun, what were Taapsee's immature habits?
Shagun: She used to get angry, very fast. She would not think much before speaking. Now I think she knows how to manage her anger. And, she knows what she has to say to whom.
Shagun, you have often joined Taapsee on her outdoor shoots. Who loves to travel and see places more- Taapsee or you?
Shagun: We both love to travel and see places. But I haven't joined her on the sets too often. In fact, I don't feel like visiting most of the places that Taapsee has shot in. Yes, I am here on the sets of 'Blurr' (in Nainital) because the locales here are really exciting.
Shagun, you are a wedding planner by profession. Have you decided in your mind about the arrangements that you'll make for Taapsee's wedding?
Shagun: Ya, anyway I have seen a lot of locations and so it's like tried and tested. The recci has been done.
Taapsee: Ab decide yeh karna hai ki shaadi karni hai ki nahi karni hai (It remains to be decided whether to get married or not).
Shagun: Haan, yeh decide nahi hua hai (That hasn't been finalised). Aur iske toh plans hain hi nahi duur-duur tak (She doesn't have any such plans at all for now). Lekin mere dimaag mein mujhe pata hai ki kahan karni hai (But I know where to get married).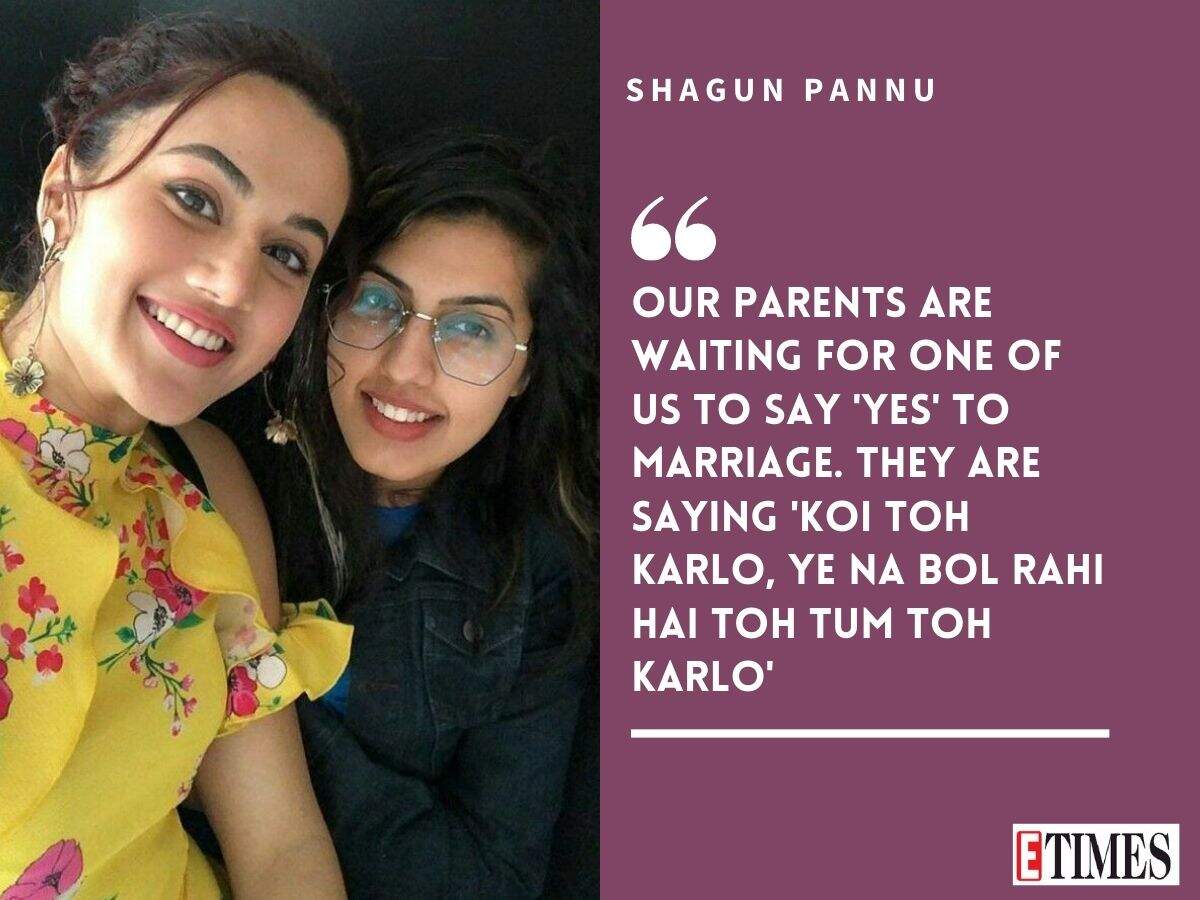 Then Shagun, it is possible that you marry before Taapsee does…
Shagun: Our parents are waiting for one of us to say 'yes' to marriage. They are saying 'koi toh karlo, ye na bol rahi hai toh tum toh karlo' (They are saying that at least one of us should get married, and since she still isn't saying yes, I should).
Taapsee, who is Mom's favourite and who is Dad's favourite?
Taapsee: Our father has always been a strict man trying to correct both of us, equally. Mom is totally opposite. As kids, Shagun was her darling child as I was the crazier of the two, hyperactive and always giving her trouble. But as we have grown up and I hardly get time to spend with her because of my shooting schedules, she gets really happy when I am with her; she feels very happy to see my interviews in papers and she saves clippings of them, too. So now Shagun feels I've become closer to her.
Shagun, you have done a course in Social Media. Do you advise Taapsee on what she should do and what she shouldn't do on social media?


Taapsee: Shagun believes that her Insta game is the best.


Shagun: (laughs) Yes, I remember she drew tedhe-medhe (misaligned) hearts on the Insta story of 'Blurr' poster and reposted it. I called her and asked whether she knows that she can undo and redo it but she said that whatever she had drawn was rather cute. So well, I have tried to help her with her Insta game. To be honest, I didn't learn as much about social media in that course as I could have; I was bunking a lot of classes (smiles).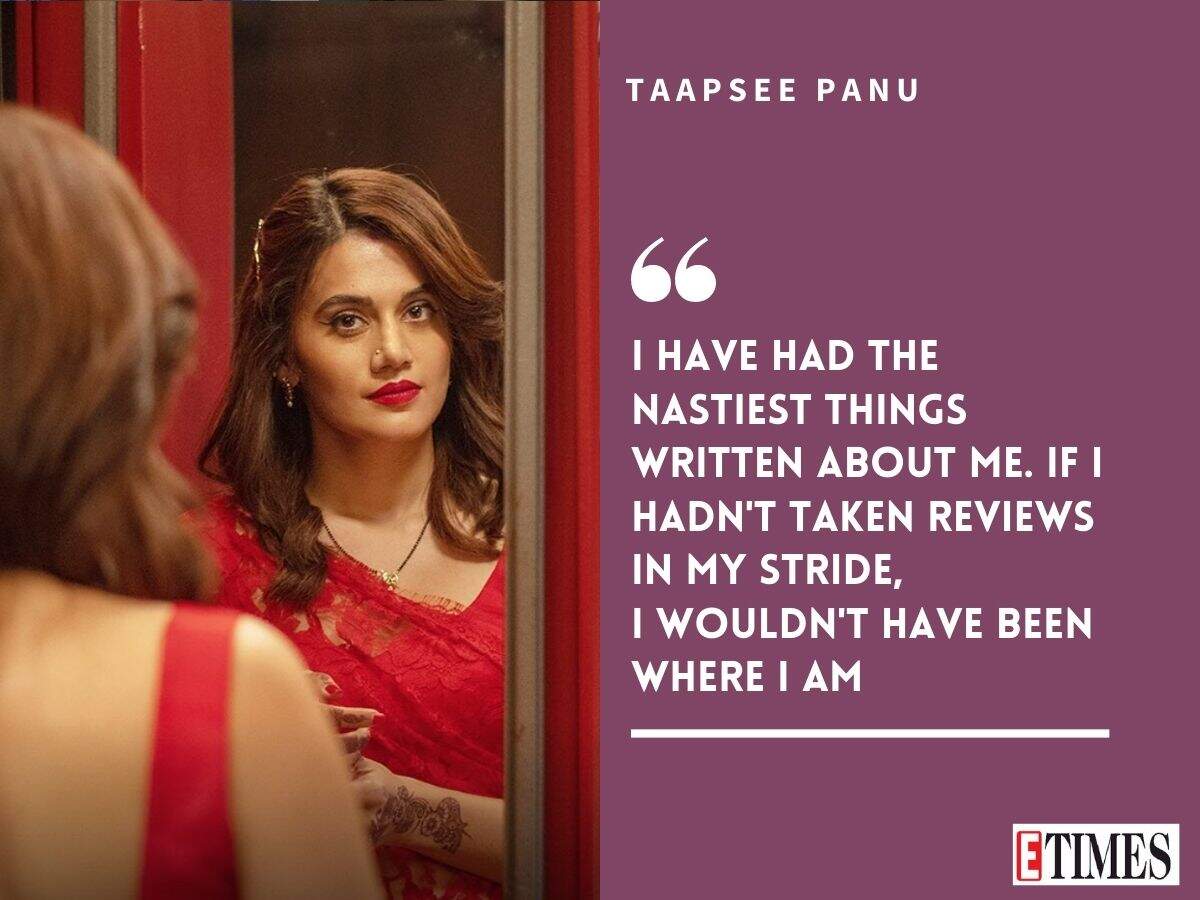 A few days ago, Taapsee, you got annoyed over a certain review of 'Haseen Dillruba'. In hindsight, does it augur well? Should you have taken it personally?
Taapsee: It was written personally. I didn't take it personally. Reviewers should have a decent idea of my filmography. The reviews I got during my early days were embarrassing to an extent that anyone would think of giving up this profession. I have always said that I am not a trained actor but someone who has learned on the job. I have never claimed to be the best actor in the industry. I have never said that I am the best choice for a film. But when you give a national platform to write a certain review, should that person make it into a personal blog? Thrash my performance if you want; I have made a career out of thrashed performances. But if one writes that Taapsee is just changing clothes in every film and nothing else, it's a personal dig. That's what I called out. I thought I should stand up. People have seen me standing up for social causes and a lot of other things. But I need to stand up for myself too. Who else would stand up for me if I don't do that for myself? People who think that I haven't taken that review in my stride need to go back and read the reviews of my earlier films; I have had the nastiest things written about me. If I hadn't taken reviews in my stride, I wouldn't have been where I am.
Shagun the Social Media expert, did you call her and say 'leave it, it's just a review'?
Shagun: No, I didn't tell her that because I was with her at the time when this was happening. She had told me exactly the same thing that she said just now. I was okay with it. I felt she knows what she's doing. She has better knowledge of this; if it was affecting her and if she wanted to deal with it like this, then so be it.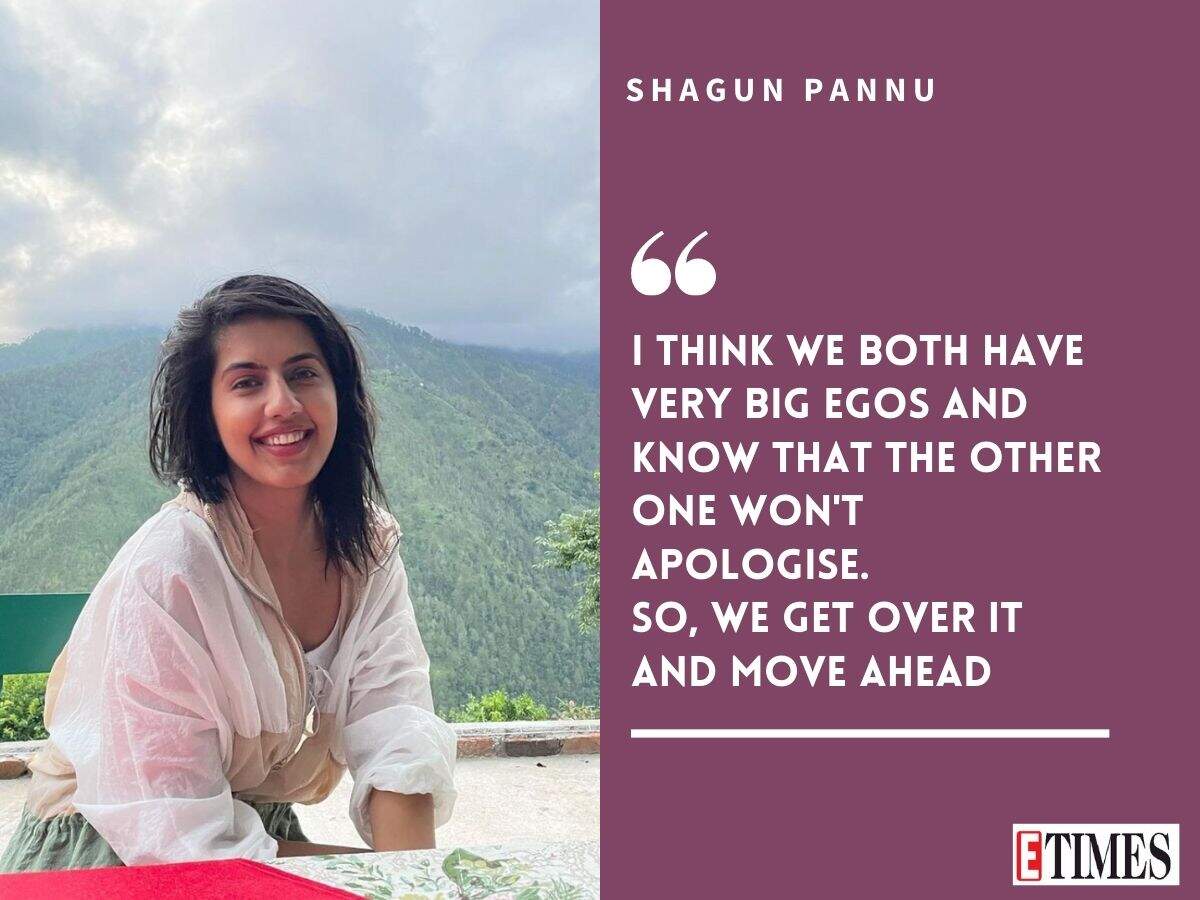 Who plays the music and starts dancing in the room?
Taapsee: Shagun.
Shagun: I started dancing because of her. She forced me to get into dancing and I started learning dance.
Taapsee: She has been my guinea pig. Whatever I wanted to do in my life, I first tried it on her. When I wanted to do some choreography, I would make her dance. I got her hair cut, tattoo made, nose pierced… (laughs).
So, is it that Taapsee is more fashion conscious than Shagun?
Taapsee: No, I am not so fashion conscious. But, Shagun is.


When you were teenagers, did you hide each other's secrets from parents- say, going out on a date or say scoring less marks in any subject?
Shagun: Not really.


Taapsee: There was never any deal between us that you won't reveal something about me and I won't reveal something about you. Whatever was discussed between us, stayed with only us. That was like an unsaid word between us.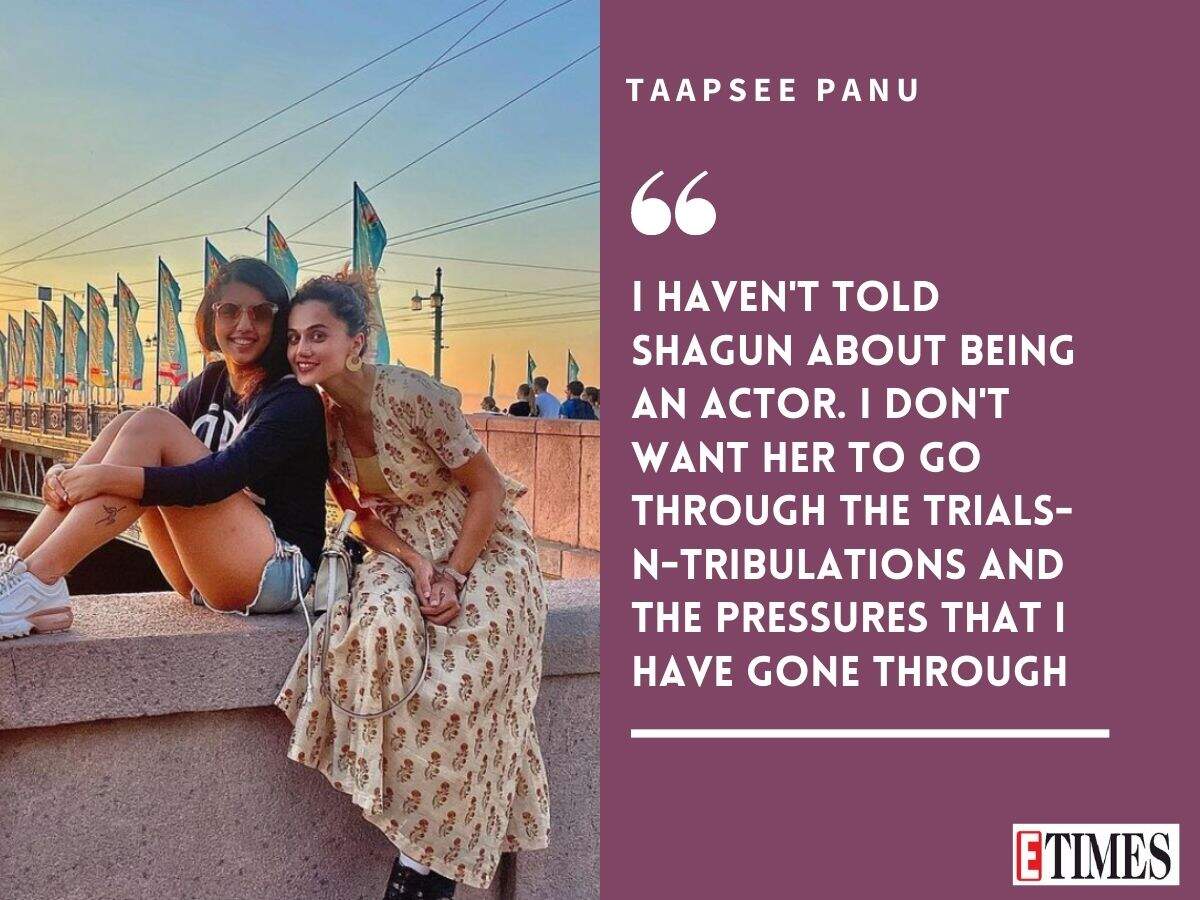 Who was better at studies?
Taapsee: (Smiles) Me.
Shagun: (Nods her head and looks towards Taapsee)


Who got more male attention in college?
Shagun: I was in a girls' college (laughs).
Taapsee: I was in an engineering college, jahan ratio itna hila hua hota hai girls aur boys ka (the number of boys exceeds the number of girls). So, it was me!
Do you exchange clothes with each other? Sisters do that….
Taapsee: Our wardrobe is the same. We share clothes, accessories, shoes… everything.
Shagun: But we have another unsaid rule. Whatever is new, Taapsee wears it first.
Taapsee: Ya, but that's because whenever I bought anything new in the past, I saw that it was invariably worn by her first.
Taapsee, did you ever tell Shagun that she too should become an actor?
Taapsee: It's not a family business (smiles). But to answer your question, no, I haven't. I don't want her to go through the trials-n-tribulations and the pressures that I have gone through; people are all around to tell you what you should do and what you shouldn't. I have always told her that she should go about her career in the way that she exactly wants it to be for herself.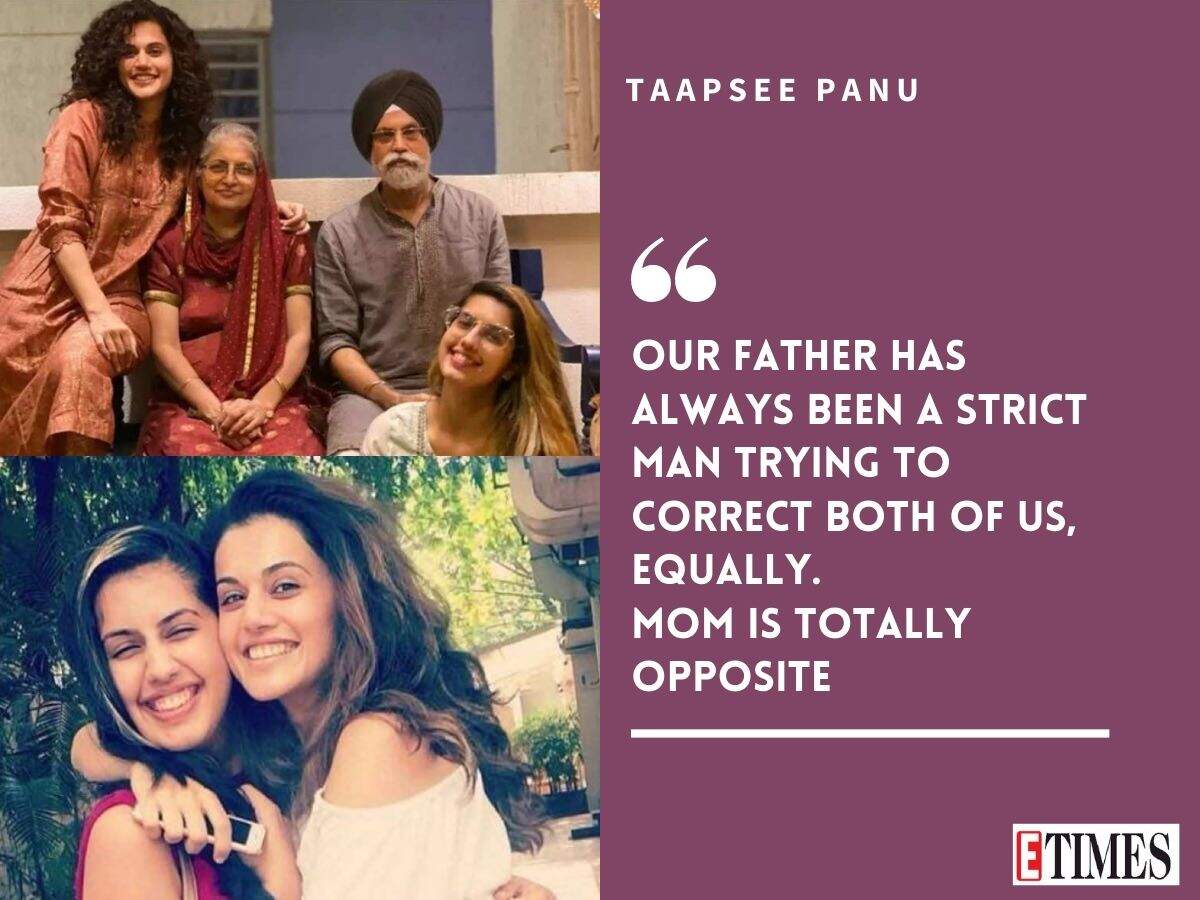 Shagun, you have seen every film of Taapsee and sometimes you are on the sets- like you are now on the shoot of 'Blurr'. Do you mimic her sometimes behind her back?
Taapsee: There's no need to mimic. We sound very similar on the phone. Our parents are often unsure of who's at the other end, when we call them from where we are together. Hmmm… Shagun will narrate my BTS incidents to her friends, but nahi, mimic nahi karti.
Shagun, which film of Taapsee you haven't liked?
Shagun: Dil Junglee.
And the one that you've liked the most?
Shagun: Normally, nowadays, it's always the last one. So, 'Haseen Dillruba'. But I must tell you here that 'Thappad' is the one that has stayed with me for the longest time.
Shagun, which scene of Taapsee has impressed you the most?
Shagun: The climax scene of 'Thappad' where Taapsse is telling her mother-in-law how she felt. I cried seeing that scene.
Taapsee, tell us one thing about Shagun which you would like to change? She already spoke about your anger…
Taapsee: Her reactions towards people and things that she doesn't like are not subtle. One needs to save the situation then by covering up somehow. I have tried to make it subtle.


Any fights that happen? Taapsee, your fight with Shagun where you banged her head against a glass is famous. But have there been situations when you didn't speak for days with each other?
Taapsee: We still have our share of arguments, earlier toh chilam-chilli (shouting) ho jaati thi but now there's a realisation that we have to come back to the same room after sometime. I can't hold grudges against Shagun for long.
Shagun: As far as saying sorry is concerned, I think we both have very big egos and know that the other one won't apologise. So, we get over it and move ahead.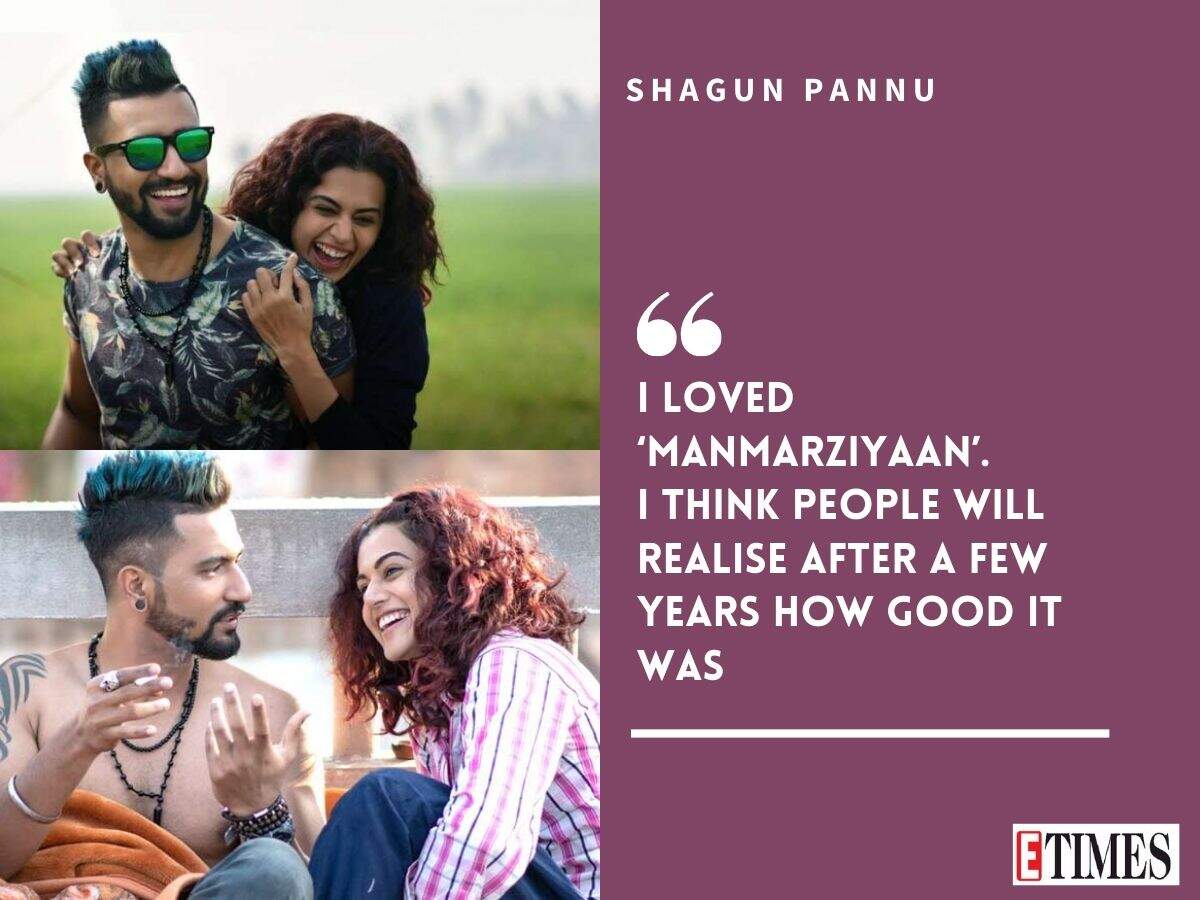 Shagun, which actor would you like to see starring opposite Taapsee soon?
Shagun: Vicky Kaushal. I like Taapsee and him together. Their chemistry in 'Manmarziyaan' was very good.
Taapsee: Yes, a lot of people have told me that. Vicky is a good friend as well. I share a very comfortable equation with him on screen. If I am doing a film with him again, I'll feel very confident on the set throughout the film.
Tell us one film which you both felt would do well, but it did not….
Shagun: 'Manmarziyaan'.
Taapsee: Absolutely.
Shagun: I loved that movie. I think people will realise after a few years how good it was.
Taapsee: Given a chance again, I would still pick that film.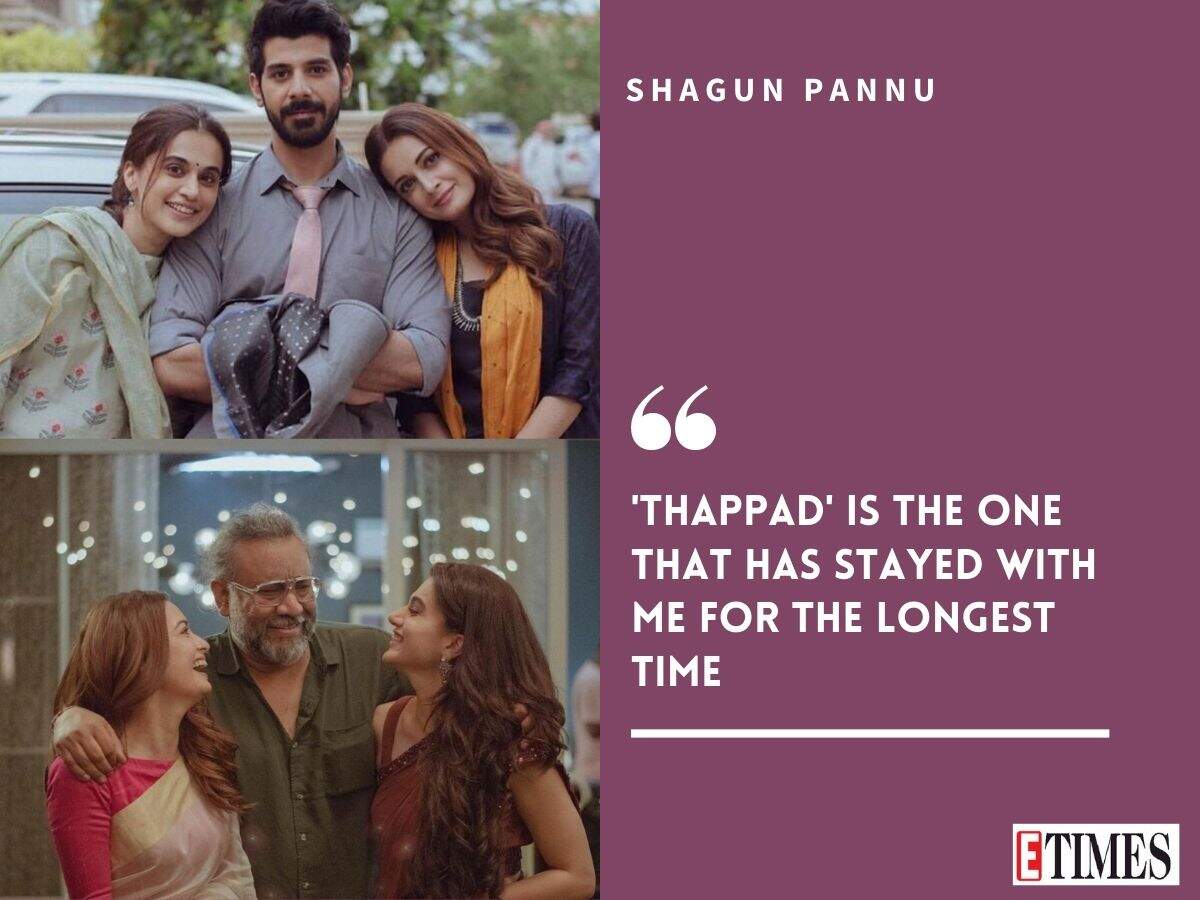 Your parents are obviously reading this interview. Tell us one instance at length where one of you impersonated for the other on the phone…
Taapsee: We haven't managed to stretch too far. By then, Mom and Dad start saying 'Batao kaun bol raha hai, batao'.
Shagun: (Laughs).
Taapsee: Hence, Mom prefers to engage with us in video calls.